My role as Creative Director: Overseeing a tight, crossdisciplinary team in a rapid, agile design-and-prototype project lasting eleven weeks.
The Ask
HBR's request was for much more than a design refresh — instead, a complete re-think of their online experience, their paywall structure, and their engagement with their audience. We worked directly with the HBR internal design team and business owners, collaborating deeply over the course of an 11-week project.
This project blended teams and needs from both the HBR editorial and shopping experiences, requiring us to take a serious look at how they integrated with each other.
Editorial Flexibility
As a major publication moving increasingly into the realm of digital-first thinking, it was important for HBR to have the ability to change their emphasis, focus, and tone in response to their content. Creating a layout system which could change to their needs was a key requirement.
The Voice of a Leader
Integrating with the Harvard Business Review team was about more than synthesizing complex content requirements. In their role as a thought leader and conduit for business expertise, HBR needed to not just retain their unique voice and identity but expand and grow it. Over the course of the project, we worked to create the graphic and site systems needed to ensure HBR has a place of leadership online.
Thinking and Re-thinking
Harvard Business Review's navigation was completely re-architected over the course of the 11-week project. We were able to design complimentary systems for both large-screen and mobile experiences which played to both of their strengths, while conducting a content audit of live editorial content, planned features, and e-commerce requirements.
Working with HBR's internal teams, we re-designed the site's paywall strategy, integrating it in with planned subscription tiers. The site needed to provide access to free content, subscription content, premium features, executive summaries, case studies, and more. Integrating all of these needs into a single, simple, easy-to-use system was quite a feat.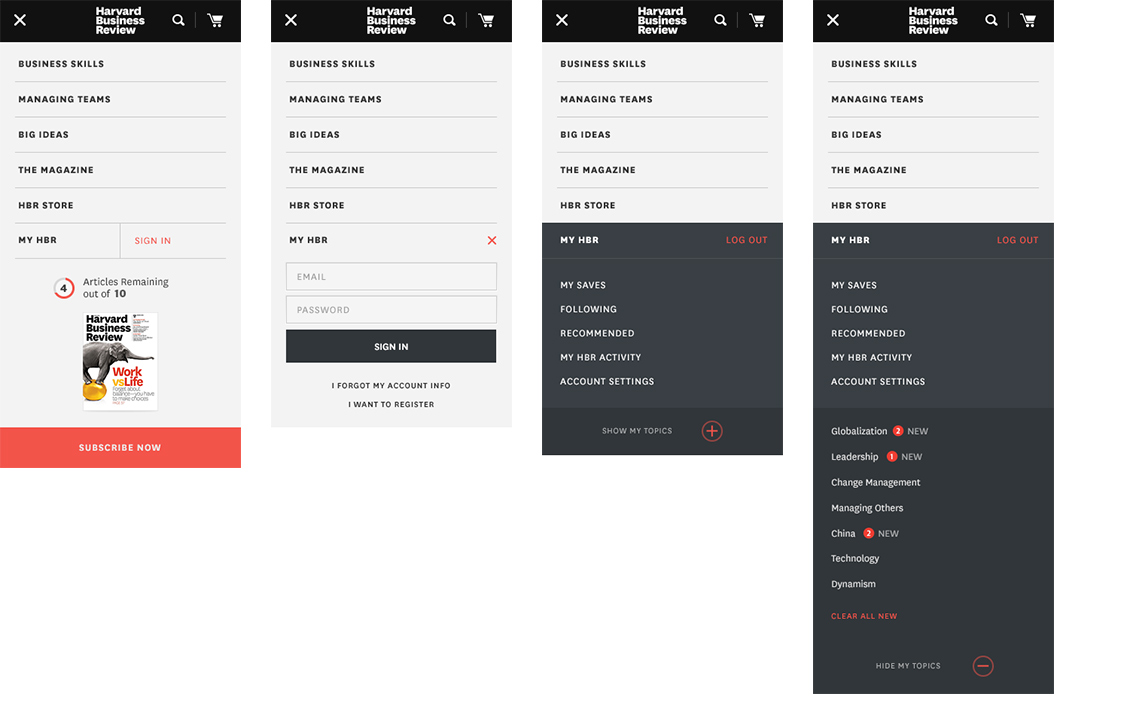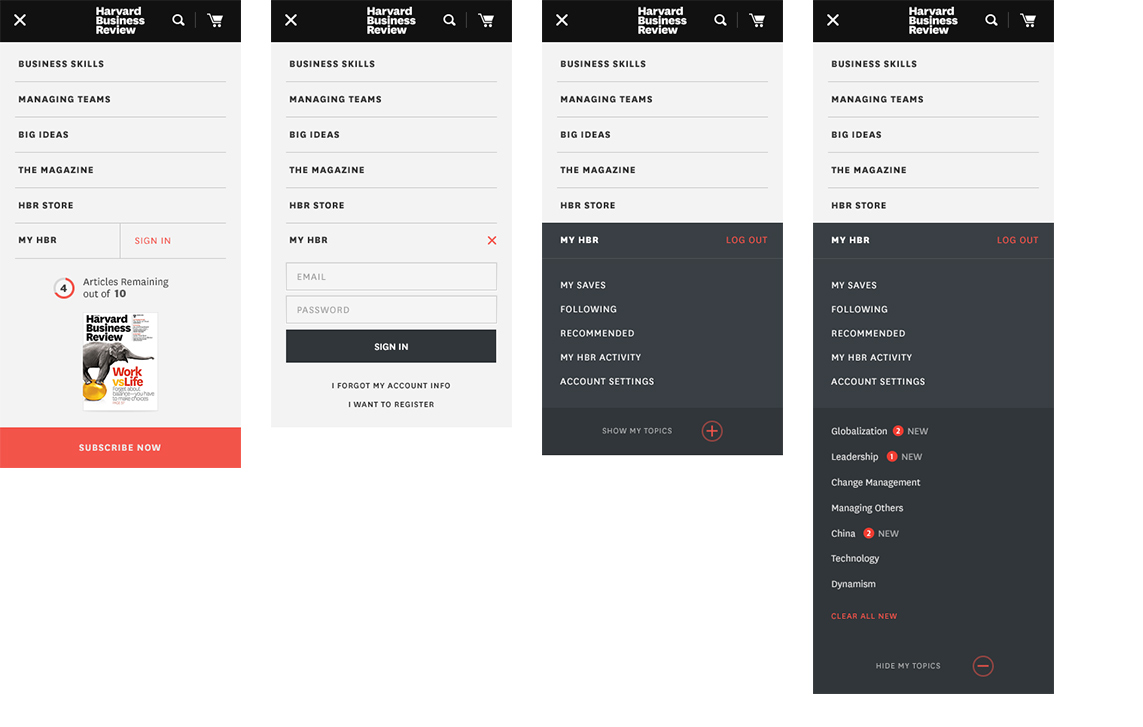 The Result
With an integrated design team working across the disciplines of visual design, UX, content, and technology, we were able to give HBR a clean, modern new design and style. We worked to create a design in a new, integrated way for our client, giving them a fresh perspective on their own strengths. Our prototype-heavy approach gave us the ability to find new opportunities and avoid trouble early on. The resulting site experience is fully responsive, and the best in its class.