Comcast Xfinity Design Evolution
My role as Creative Director: Overseeing multiple creative teams in comprehensive design and branding shifts for the US's largest cable provider.
Everyone Hates the Cable Company
Comcast is the largest cable company in the United States. It is nearly universally reviled, the scapegoat for a lot of blame — some of which it earns, and some of which it does not. For over two years my team worked to change not just the perception but the reality of dealing with everyone's favorite media utility.
The problems we confronted were more than just perception. Comcast's web presence was scattered and hodge-podge, reflecting internal business units with widely differing goals and requirements. Even the branding was inconsistent, carrying forward old approaches without any commonality. As Comcast itself introduced the Xfinity brand and began to redefine its place in the market, we took on the work of making sure their digital identity led the way.
Over the course of our engagement we developed Next-Generation visions, detailed design, and prototypes touching nearly every aspect of Comcast's digital ecosystem. Integrating with our own and Comcast's internal technology teams, we worked toward making this work live — helping our clients through the transition from a waterfall delivery method into an agile, responsive way of working.
First Steps
Our first goal was to establish a design system which could support the myriad of digital touchpoints Comcast had with its clients. From customer acquisition, through account maintenance, and to a completely reconcepted and unified help and support center, we worked with the newly refreshed Comcast branding to create a simple, engaging system.
At this point all of our work was touch-friendly, and we pursued a strategy of adaptive design with separate (but linked) experiences for mobile and desktop/tablet devices. This approach allowed us to move rapidly with Comcast's existing technical infrastructure.
This phase of the engagement had a number of great successes, as we launched a number of nationwide and regional sites, helped to simplify Comcast's customer-facing options, and greatly improved their entire acquisition experience. We designed and launched Comcast's first true mobile and tablet acquisition and support sites, finally allowing them to stop relying on desktop browsers.
That's great, but the world moves on
With our guidance, working with the client's own internal technology team, we began an initiative to create a much more fluid way of working and designing. This began as a pilot project. Our goal was to create a structure to allow rapid releases, enable true responsive design, and allow us to rapidly react to learnings with improved design patterns and content. This responsive project proved to be so successful that even with limited resources, it soon became clear that it would catch up to and lap the traditional waterfall-based projects.
Transitioning over to this more agile, responsive workflow also allowed — and demanded — us to make design decisions quickly, and based on the suitability of work for all browser sizes and shapes. What followed was a great flattening of the design patterns, a simplification of the brand language, and a cross-discipline integration of teams.
Freshen Up
The new codebase and rapid, sprint-based design and development teams allowed us to anticipate and react to changes, including the largest we had encountered so far — a branding change from Comcast to Xfinity pervading the entire consumer experience. New color palettes and sleeker looks were only the tip of the iceberg. Xfinity was finally positioning itself as the modern, friendly but no-nonsense brand that allowed it to shake off its Comcast underpinning.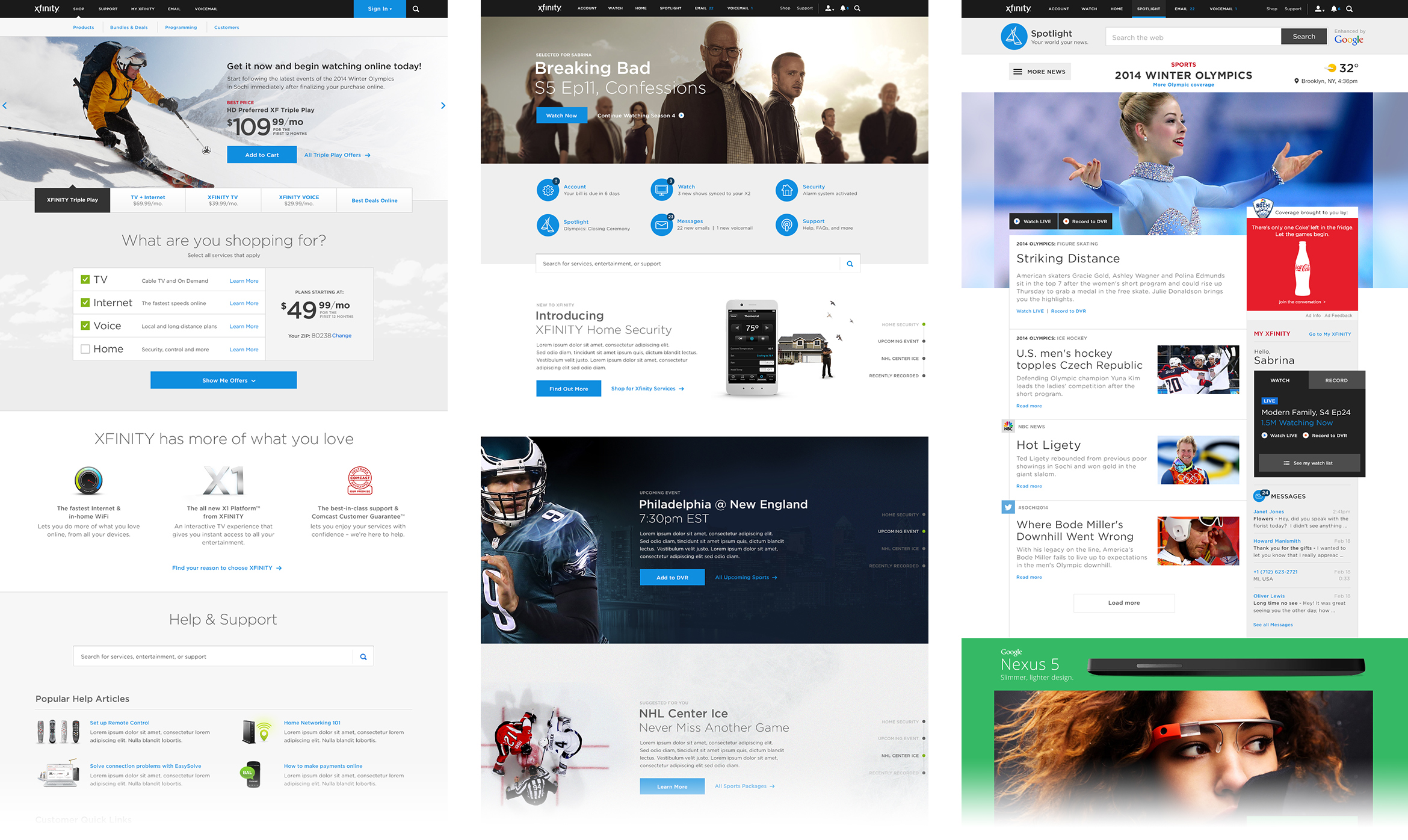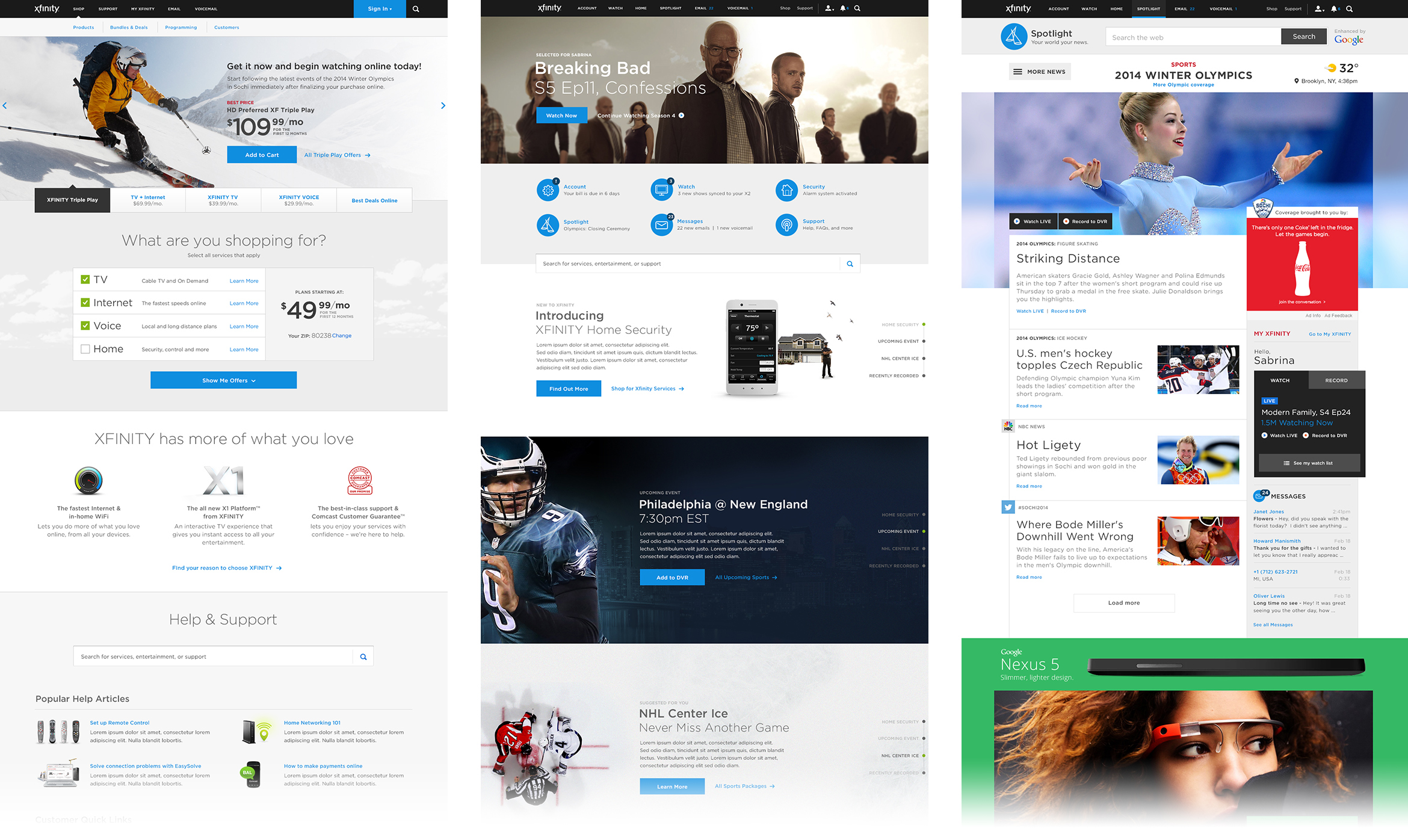 Now show us the future
With the transition to Xfinity well underway, our last ask was to investigate what was next. We put together a future vision for the brand, showing the golden standard of what Xfinity could be. A cable company yes, an ISP too — but a service provider for content as well. With the distributed X1 platform and other initiatives to allow for unbundling of channels and on-demand services from each other, the future holds the ability to serve cord-havers and cord-cutters in any combination, all with the ease of signing up and servicing one would expect from an all-digital brand.
The Result
It was my pleasure to spend almost three years helping Comcast and Xfinity redefine themselves. Working as a part of an absolutely amazing team, we helped to rehabilitate a tarnished brand, clean up and re-invent a shattered design ecosystem, and lift one of the largest telecoms in the world into a digital-first future.